About
Doctors for Responsible Gun Ownership is now a project of the Second Amendment Foundation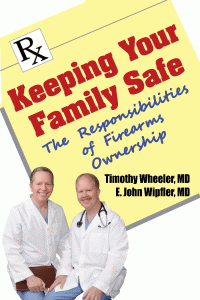 The Second Amendment Foundation announces a new association with Doctors for Responsible Gun Ownership (DRGO).  DRGO is a nationwide network of 1,400 medical doctors, other health care professionals, scientists, and others who support the safe and lawful use of firearms for any legitimate purpose.
The founder and director of DRGO is Timothy Wheeler, MD, a southern California surgeon.  Since its founding in 1994, DRGO has effectively countered the public health assault on gun owners with media appearances, opinion articles, and public speaking.
DRGO ends a happy and productive 17 year relationship with the Claremont Institute, a southern California think tank dedicated to advancing the founding principles of America.  DRGO's new association with the Second Amendment Foundation will allow more timely and direct involvement in the political movement against public health activists who want to revoke our Second Amendment rights.
DRGO Welcomes other health professionals and students who are alarmed at organized medicine's attempts to promote gun control.
Why DRGO?
DRGO's mission is to expose the poor medical scholarship—and the anti-gun bias behind it—held out as truth by organized medicine and medical journals. Our work includes:
The Claremont Institute-Criminologists amicus curiae brief in the landmark U.S. Supreme Court case District of Columbia v. Heller. Written by legal scholars Don Kates and Marc Ayers, this brief debunks the advocacy science the D.C. government uses to justify its total ban on handguns in the District.
Annual participation on speaker panels at the Gun Rights Policy Conference. The 2009 conference was covered by CNN. Speakers included the attorneys who won landmark cases before the U.S. Court of Appeals and Supreme Court affirming gun owners' rights.
Participation in an amicus brief for the United States Court of Appeals in the case of United States v. Emerson. The court's decision is a scholarly discourse upholding the individual right of firearm ownership.
Testimony before the U.S. House of Representatives Appropriations Committee revealing an aggressive ant-gun agenda at the federal Centers for Disease Control and Prevention (CDC). Congress subsequently cut funding for the CDC's anti-gun "research."
Participation in a U.S. Supreme Court amicus brief supporting a successful Tenth Amendment challenge to the Brady Law. This federal gun control law would have imposed an onerous and unconstitutional enforcement burden on local governments.
DRGO's message of responsible gun ownership has been featured in national media, including Fox News television, the CBS news program This Morning, and on CBS News 60 Minutes. We have also appeared on radio programs in media markets large and small, including KNX 1070 (the CBS affiliate in Los Angeles), Wisconsin Public Radio, and dozens of others.
We welcome as members all health professionals and anyone who supports responsible gun ownership and scientific integrity.
Doctors for Responsible Gun Ownership (DRGO) brings its message through public speaking, media appearances, and publication, including opinion articles. We tutor health professionals and the general public in the best available science about firearms. The lesson is that guns in responsible hands save lives, reduce injuries, and protect property by preventing violent crime.